Eviation Alice Electric Aircraft
Eviation's Alice will be the first available all-electric commercial passenger airliner, and with a nine-seat capacity, is aimed at small regional airlines offering short haul flights. A full-scale prototype of Alice was presented by Israeli manufacturer Eviation at the 2019 Paris Air Show, with commercial operation expected to begin in 2022.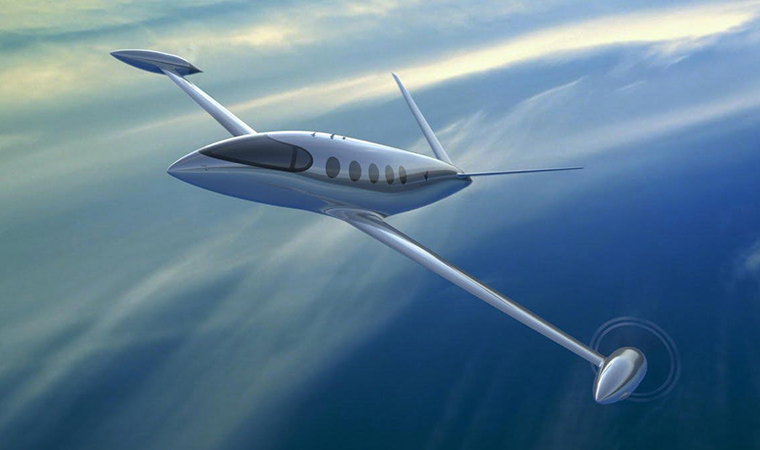 Some of the main features of Alice in terms of performance and technology, safety, passenger comfort and cost are outlined below, along with some of the environmental implications of air travel. Finally, similar aircraft in development by competitor manufacturers are briefly summarised.
Performance and Technology
Alice has a range of 565 nautical miles (nm) with a 45-minute reserve and is able to carry nine passengers for up to 1046km. It has a maximum take-off weight (mtow) of 14000 pounds and a 240-knot cruise speed at 10,000 feet, or 265 knots at 32,000 feet for the pressurized version.
Alice will use off-the-shelf automotive-type lithium-ion cells which can be obtained from various suppliers. The battery system is enclosed outside the cabin structure in the nose and underneath the wing-to-fuselage fairings. The battery weighs 8200 pounds and is charged by a half-megawatt charger on a mobile truck which is itself charged from the grid, thus avoiding the need for specially adapted airports with charging stations. The ratio of battery charging to flight time is around half an hour of charging per hour of flight, and the battery is fully recharged in 1 hour and 10 minutes meaning that not all journeys will require full charge.
The aircraft is powered by two 260-kW Siemens electric motors on each wingtip, with a further motor of the same type fitted to the tail. Each motor is fitted with a Hartzell variable-pitch propeller and can be controlled by Honeywell's new lightweight fly-by-wire flight control system, which can manage the propeller pitch, rpm and also trade power for noise reduction where necessary.
The manufacturing process for the all-composite airframe is being developed by Carboman, who also built the prototype, and the cabin is designed to be pressurised in the final version. Italy's Magnaghi Aeronautica will be supplying the landing gear, which will protect rear motor and propeller from tail strikes by way of a tall retractable tail wheel.
Safety
Alice has several built-in redundancy features to increase safety. In the event of one of the two wing-tip motors losing power, to prevent uneven thrust from the other motor causing loss of control, the opposite motor will automatically reduce power accordingly to compensate. Should loss of power to these motors occur, the tail motor will provide enough power to keep the aircraft flying, and can indeed supply enough power for take off
if required.
The power and thermal management systems that work in conjunction with the battery are designed by Eviation to ensure maximum safety, and as a further feature of safety, the battery can be split in 16 separate strands, each of which are singly capable of fully powering the motors.
Passenger comfort
In terms of wind and turbulence, Alice has several features that will help to maximise passenger comfort. The wingtip-mounted motors enable differential thrust which will help to compensate for crosswinds and avoid the need to bank into the wind, and the high wing loading created by the thin wings is more resistant to turbulence. Further to this, the fly-by-wire system is able to act as an augmented stability system which will further increase Alice's in-flight stability.
Cost
At $200 dollars per hour, the operating cost of Alice will be around 20% less than those of the similarly performing turboprop aircraft typically employed by small regional airliners, or around 50% cheaper than equally typical piston-powered aircraft. Alice's operating costs are anticipated to reduce further at a rate of around 2 to 3% per year as battery efficiency improves with advances in technology.
Environmental
It is estimated that the aviation industry contributes around 2% of global CO2 emissions, and as a result the IATA has pledged to reduce this to half its 2005 levels by 2050 using sustainable fuels, improved efficiency and advances in technology. According to the Air Transport Action Group, around 20% of aviation's CO2 emissions come from flights of under 1,500km (932 miles), this being the range for which Alice has the potential to help reduce emissions.
Competitors
In contribution to the IATA's goal of reduced emissions, competitor electric and hybrid aircraft are currently in development by other manufacturers. In early 2019 Boeing launched an all electric prototype, and in 2018 Airbus, Siemens and Rolls-Royce announced the development of their own hybrid-electric propulsion system (see: www.airbus.com/innovation/future-technology/electric-flight).